Torsdag 1. april var det 45-årsjubileum for Apple, da Steve Jobs, Steve Wozniak og Ronald Wayne den 1. april 1976 stiftet Apple. Ingen aprilspøk!. Wayne solgte sin 10% andel av selskapet tilbake til Jobs og Wozniak bare 12 dager senere for å unngå økonomisk risiko, – som må betraktes som noe uheldig i ettertid, siden hans eierandel ville være verdt mer enn 200 milliarder dollar i dag.…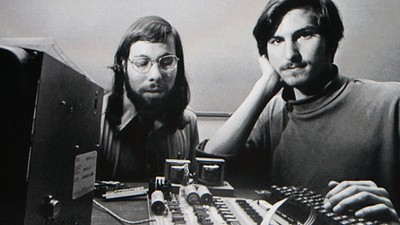 Apples historie begynte i garasjen til Jobs barndomshjem i Los Altos, California, hvor han jobbet med Wozniak for å teste de første Apple I-datasystemene i 1975. Jobs fikk deretter en salgsavtale med en liten databutikk kalt Byte Shop i nærliggende Mountain View, California, og som begynte å selge Apple I i juli 1976 for $ 666,66. Wozniak sa senere at han valgte den prisen fordi han likte å gjenta sifre.
For spesielt interesserte, en omfattende (lang!) historisk oversikt ble laget av MacWorld i 2017:
History of Apple: The story of Steve Jobs and the company he founded
(NB: i starten av artikkelen her ligger et par dagsaktive videoruter fra Macworld TV som ikke har med artikkelteksten å gjøre, og kan hoppes over…)
For mer om en fascinerende historie, anbefales Walter Isaacsons autoriserte biografi om Steve Jobs fra 2011: «Steve Jobs». *) Fåes både på engelsk og i norsk oversettelse, også selvfølgelig som e-bok.

*) The front cover uses a photo of Steve Jobs commissioned by Fortune magazine in 2006 for a portfolio of powerful people. The photograph was taken by Albert Watson.
If you look at that shot, you can see the intensity. It was my intention that by looking at him, that you knew this guy was smart. I heard later that it was his favorite photograph of all time.— Albert Watson